Motorola DROID RAZR MAXX: Review and Features of Verizon's Smartest Smartphone
Advertisement

All day, every day. That is how much you use your Smartphone. With Motorola DROID RAZR MAXX, you finally get battery life that keeps up with your life. Aside its massive built-in battery and a change in the internal memory capacity, the newcomer in Verizon's LTE lineup is identical to the DROID RAZR MAXX.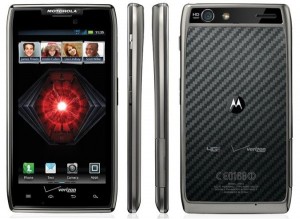 The DROID RAZR MAXX is packed with power. On one full charge, you can host a marathon (as in more than 21-hour) conference call — that's the longest talk time of any 4G Smartphone. Whip through the web for 7 hours straight. Get your movie fix with 15 uninterrupted hours of flick watching. Jam out all weekend. Yes, on one full charge, you can listen to music for two and half days straight.
This new version of the iconic handset packed a 4.3-inch AMOLED display, a dual-core 1.2GHz processor, an 8-megapixel camera, 16GB of internal storage. While the new RAZR was well received by consumers, a few complaints surfaced following the Smartphone's launch and poor battery life was among them.
The DROID RAZR MAXX is not changing the rules — it is creating a whole new game, in a full-on assault to what is possible. At 8.99mm, it is thinner than most smart phones and it packs more battery, too. It is thinner and the longest talk time of any 4G Smartphone? The competition does not stand a chance.
The DROID RAZR MAXX delivers twice the battery life of other leading Smart phones, so you won't spend your day plugged into the wall. Instead, you will be more plugged in than ever to what is happening at work. Blazing 4G LTE speeds plus an enterprise-grade VPN keep you connected to the office when you are away, while pre-loaded apps help you get down to business. Collaborate in real time with GoToMeeting and create and edit Microsoft Office files right on your phone, with Quickoffice.
Key Features of Motorola DROID RAZR MAXX:
Dual-core 1.2 GHz Cortex-A9 CPU; PowerVR SGX540 GPU; TI OMAP 4430 chipset
1GB RAM; 8GB built-in storage; 16GB microSD card included in the retail package
4.3″ Super AMOLED display with qHD (540 x 960 pixels) resolution; 256 ppi pixel density
8MP autofocus camera with LED flash, 1080p video recording, 1.3MP front-facing unit
3300 mAh battery with the best performance in class
LTE network connectivity
Superb build quality with top of the line materials
Android 2.3.6 Gingerbread with Motorola's proprietary UI; ICS update planned
Advertisement