Fujifilm GFX 50R: Mirrorless Medium Format Camera
Advertisement

Just like medium format film cameras in the past, the FUJIFILM GFX 50R has been developed in pursuit of a compact and lightweight system while delivering the ultimate picture quality for everyday snapshots and street photography.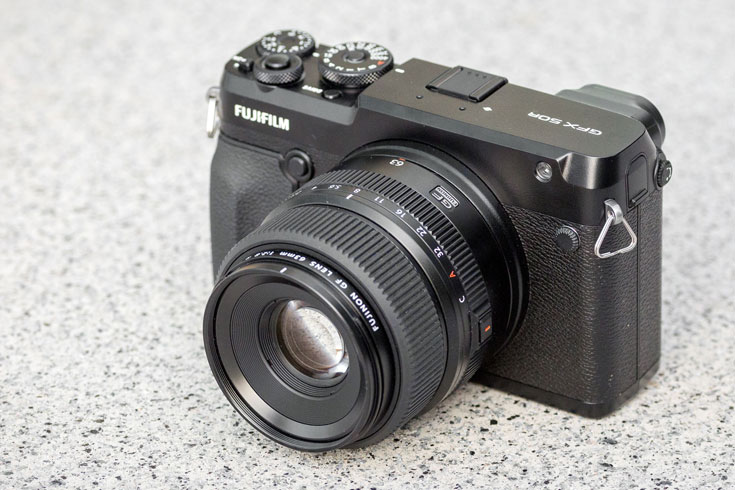 The Fujifilm GFX 50R is a 50 megapixel rangefinder-styled medium format mirrorless camera. It shares most of its components with the existing GFX 50S, including both its sensor and processor, but re-arranges them into a slightly smaller and less expensive package.
Featuring a large 51.4-megapixel G Format CMOS sensor, the Fujifilm GFX 50R is a sleek, mirrorless camera that is extremely portable and highly capable. This new model expands the potential for the GFX system and makes medium format output even more accessible.
The FUJIFILM GFX system delivers image quality among the best in the industry. It combines outstanding resolution of 51.4 megapixels with exceptional tones, advanced color reproduction and high-performance lenses. The FUJIFILM 50R is equipped with 51.4MP medium format CMOS sensor and X-Processor Pro image processing engine.
The focal plane shutter has been newly developed specifically for our Mirrorless Camera. While achieving a maximum shutter speed of 1/4000 sec. (1/16000 sec. when using electronic shutter), a flash synchronization speed of 1/125 sec.
It has a magnesium alloy body that's both dust and water-resistant, and can even withstand low operating temperatures. At its core is the X-Processor Pro engine that delivers superior image quality, optimizing the camera's performance in producing high-resolution photos with an extremely wide dynamic range, and ISO up to 102400.
The GFX 50R is equipped with the 0.77x 3.69M-dot organic EL electronic viewfinder (EVF). This allows accurate focusing despite the large size of the medium format sensor, which has a shallower depth of field than that of a 35mm full frame sensor when shooting at the same angle of view.
This is the first model in the GFX system to support the Bluetooth low energy technology. Captured images can be transferred easily and quickly to smartphones and tablet devices paired with the camera via the FUJIFILM Camera Remote app.
Among its remarkable features are the 3.69m-dot OLED electronic viewfinder that allows photographers to keep their eye on the subject, larger G mount that supports a wide variety of lenses, low-noise focal-plane shutter can snap photos at 1/4000, 3.2-inch touchscreen LCD with tilting design that supports working from high and low angles, and FHD recording of 1080p videos at 30 fps.
FUJIFILM GFX 50R offers various dedicated accessories to construct a system that can respond to the detailed requests of professionals, users can select the solution that is easiest to use according to their shooting scene and method.
Fujifilm GFX 50R Key Features:
3.69M-dot OLED EVF
51.4MP medium format CMOS sensor (43.8 × 32.9mm) with Bayer filter array
3.2″ 2.36M-dot touch LCD tilts up/down
1080/30p video capture
Weather-sealing
1/125 sec flash sync speed
In-camera Raw processing
3 fps continuous shooting
Dual SD card slots (UHS-II)
AF-point-selection joystick
USB C socket
Wi-Fi with Bluetooth
Advertisement