Windows smartphone powered by Snapdragon 820 spotted on GFXBench
Advertisement

A new Windows Phone, powered by the Qualcomm Snapdragon 820 Processor, has been spotted on GFXBench. The phone is called 'HP Falcon', and since there has been little to no news about HP making a Windows-powered smartphone, it is possible that the phone could be an upcoming Lumia smartphone from Microsoft.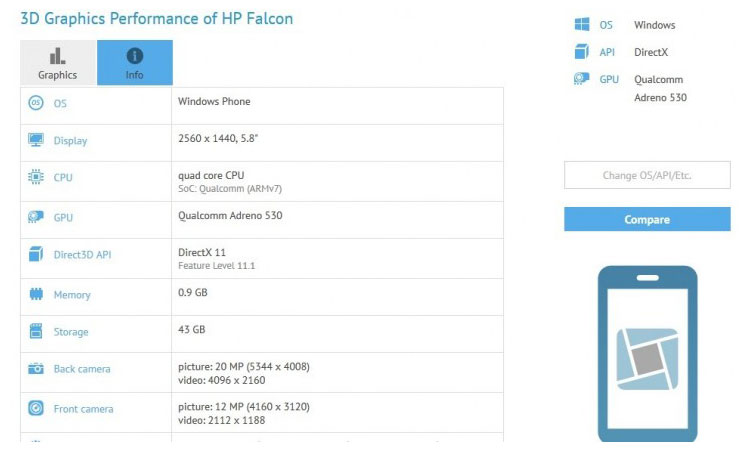 The GFXBench listing shows that the HP Falcon sports a 5.8 inch 2560 x 1440 display and is powered by a Snapdragon 820 processor and Adreno 530 GPU. It has a 20 MP rear camera and a 12 MP front-facing camera. The listing says that the phone has 0.9GB RAM and 43GB internal storage, hence there is a possibility that this is a prototype phone. If this is a high-end phone, it should have atleast 2GB RAM and 64GB internal storage. Currently, there is no other information about the specs of the phone.
Microsoft has already launched two new flagship Windows Phone devices this year, namely the Lumia 950 and 950XL. While the Lumia 950 runs Qualcomm Snapdragon 808, the 950XL runs on Snapdragon 810. The Lumia 950XL comes with a 5.7-inch QHD display with 3GB of RAM. To combat the heating issues associated with the Snapdragon 810, Microsoft has used a liquid cooling system to ensure that the device does not overheat during heavy performance.
A mysterious new Windows Phone device, dubbed HP Falcon, is listed now on GFXBench, revealing some of its specs. While it is powered by the Snapdragon 820, it is weird it has only 1 GB of RAM and 43 GB of storage, suggesting some of the specs aren't correct. The listing says it packs a 5.8-inch Quad HD display, a 20 MP rear and a 12 MP front camera.
However, Qualcomm had refuted these rumours, posting a statement on Weibo, where it said that the SoC meets its design specifications, and the chipset will continue to be improved. The processor has been tipped to be used in the upcoming Samsung Galaxy S7, alongside a possible second variant of the Galaxy S7, which would be powered by the Exynos 8890 SoC.
Qualcomm had officially unveiled the Snapdragon 820 processor last month. The Snapdragon 820 uses a quad-core setup instead of an octa-core setup found on the 810. It comes with Qualcomm's own Kryo cores instead of the traditional ARM architecture. Two of the cores are clocked at 2.2GHz, while the other two can be clocked at either 1.6GHz or 1.7GHz. The company claims that the CPU offers twice the performance as the Snapdragon 810.
Advertisement