OnePlus One Smartphone: Review of 2014 Flagship Killer
Advertisement

A fine integration of a number advanced technologies and features, the OnePlus One is designed for people who expect a power-packed performance from their devices. Compatible with 4G LTE networks, the device houses a powerful quad core processor to let you multitask and browse the web at lightning fast speeds.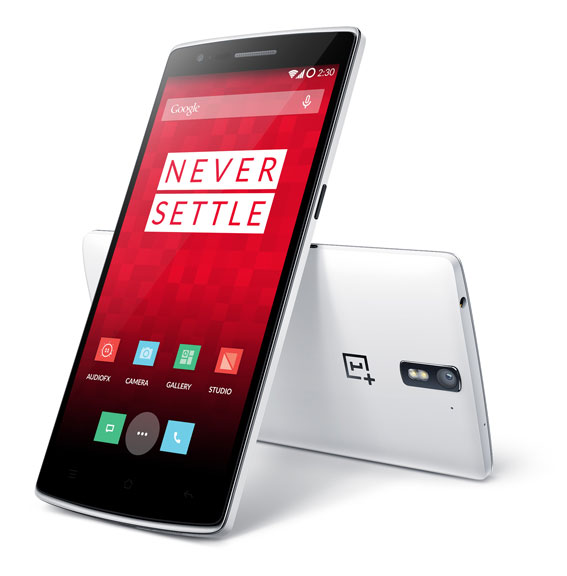 A stunning display leaves you amazed as soon as you lay your eyes on it. Apart from its functionality, the phone scores brownie points for its sleek and stylish looks as well. It comes in silk white and sandstone black colours and is available in memory configurations of 16GB and 64GB. What's more, the device's impressive battery makes sure you stay connected for an entire day.
Launched in month of April, this Android handset has garnered a lot of attention for offering impressive high-end specs at a decidedly mid-range price. Moreover, the company's unique "invitation-only" sales approach has created a huge interest in the tech sphere. With features like a massive 5.5″ display, Snapdragon 801 SoC processor, and CyanogenMod 11s, OnePlus One is definitely a flagship phone. But the question is whether it is really the 'Flagship Killer' as it claims to be.
OnePlus One Smartphone Key Specifications and Features:
Display: 5.5 Inch 1080p IPS LCD Display from JDI, 401 ppi with Corning Gorilla Glass
Processor: Qualcomm Snapdragon 801, Quad Core 2.5GHz w/ Adreno 330 Graphics
CPU: Qualcomm Snapdragon 801 processor with 2.5GHz Quad-core CPUs
GPU: Adreno 330, 578MHz
RAM: 3GB DDR3l
Operating System: CyanogenMod 11s
Storage: 16GB / 64GB of Internal Storage
Sensors: Accelerometer, Gyroscope, Proximity and Ambient Light
Cameras: 13MP Rear facing Camera w/dual LED Flash and 5MP Front Camera
Connectivity Options: 2G/3G/4G, Bluetooth 4.0, Wi-Fi g/n/ac, A-GPS/GLONASS
Dimension: 152.9mm x 75.9mm x 8.9mm
Weight: 162 grams
Battery: 3,100 mAh
Color Options: Sandstone Black, Silk White
Features of OnePlus One Smartphone:
QUALCOMM SNAPDRAGON 801 PROCESSOR
Packing a Qualcomm Snapdragon 801 processor with 2.5GHz Quad-Core CPUs, the OnePlus One's operational capacity and performance are enhanced by Qualcomm's heterogeneous computing approach.
This chipset harnesses the robust integration of many components for incredible speed and power efficiency. Among them, the custom Krait CPU architecture for sustained peak performance, integrated 4G LTE connectivity and Adreno 330 GPU for superior graphics and gaming experience, boosting 3D interfaces, colors and textures.
BEST IN CLASS MEMORY
Using the new standard EMMC 5.0 you'll be able to access and write on our 16GB or 64GB of internal flash memory in the blink of an eye. 3GB of LP-DDR3 RAM running at 1866MHz allows flawless multitasking of even the most demanding apps.
GLOBAL 4G LTE
Enjoy blazing fast and smooth connectivity whether you're around the corner or across the world with OnePlus One powered by Qualcomm Snapdragon processor with a 4G LTE multimode modem. Unlocked and contract-free, roam wherever you'd like the One by your side.
13 MEGAPIXEL SONY EXMOR IMX214
Many of us rely on our phones for taking all our photos, so we incorporated a camera that delivers astounding results. With dual LED flash, the OnePlus One's camera will take photos you'll want to share, day or night.
OnePlus One Smartphone Review:
The build quality is awesome. The design is very simple, sleek and ergonomic without any unnecessary details. It feels a lot thinner than it looks and the great Sandstone texture on the back gives a premium feel when hold in the hand.
Its huge 5.5-inch 1080p screen is beautifully crisp & bright, and has decent viewing angles. It gets somewhat washed out in the direct sunlight, but the content on the screen is still readable.
It incorporates GPS and GLONASS, which allow you to navigate your way through locations without getting lost. The Power Off Alarm is a convenient feature that makes sure your alarm goes off at the right time, even if your phone is switched off.
Sensors like accelerometer and gyroscope detect the orientation of the phone and even track its rotation to change the orientation of the screen. This phone features a compass to facilitate navigation, while the light sensor detects the ambient light to alter the brightness. A proximity sensor is also integrated on the touch panel to help you avoid accidental taps on the screen, while you talk to someone.
Another plus point of the device is its ability to deny any permission to any application. When you install an app from the App Store, you're asked to accept the 'permissions' that the app wants for its working. Some applications like Facebook, ask for too many intrusive permissions.
Multitasking on this 13MP camera phone will be an absolute delight considering that the device is powered by the quad core Qualcomm Snapdragon 801 chipset that ticks at 2.5GHz. It adopts the heterogeneous computing approach, supports multiple applications at the same time and extends support to the 4G LTE network.
Advertisement