Sony SmartWatch: Android Power to Your Wrist
Advertisement

Sony SmartWatch is now finally up for sale and might well become popular among gadget lovers, as it is not very expensive. Allowing users to conveniently view notifications and carryout certain tasks straight from their wrists' is the Sony SmartWatch.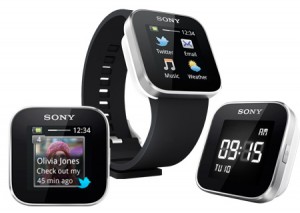 At just 0.3 inches thin with an easy-to-wear wristband or clip, SmartWatch makes it simple to stay on top of life in style with just a tap, touch or a swipe. It is compatible with most 0.79 inch wristbands and it comes with its own black rubber strap and clip.
The devices are similar in that they both run applications that sync with Smartphone operating systems and allow for control of those apps from a convenient wrist-mounted display. The SmartWatch has a 1.3 inch OLED display that is used by the watch to notify users about the updates and event with the use of vibration and screen alert.
The Sony watch has a snazzy touch display, but the functional e-paper watch face of the Pebble is viewable in direct sunlight. You can customize your SmartWatch with a 20mm wristband. Or wear its stylish wristband. You can even use it as a clip. This ultra-thin Android remote was designed to impress.
The Sony SmartWatch offers a variety of colored watch bands to liven up its product, while the Pebble so far only comes in three colors — with a fourth to be decided — but has customizable watch faces. You can choose from 5 other wristband colors sold separately: pink, mint, grey, white and blue.
The SmartWatch features an easy-to-use, ultra-responsive touch display. Finding your way around SmartWatch is super simple. Your world's just a tap, swipe or press away. The device is apparently capable of notifying users by sending out a vibration and an on-screen alert during events like incoming calls, emails and texts.
Key Features of Sony SmartWatch:
Read social updates, text messages and email
Manage calls with a simple touch and swipe
Personalize with apps downloaded from Google Play
Control music on your smartphone
Snap pictures with your Android phone from a distance
Specifications of Sony SmartWatch:
Dimensions: 1.42 X 1.42 X 0.3 in
Weight: 0.55 oz
Display: 1.3″ OLED display, 128 x 128 pixels
Compatibility: BluetoothTM 3.0 and AndroidTM 2.1 or above
Connectivity: Standard USB charging
Battery life: Up to 4 days
Language support for: English, Spanish, French, Chinese (Traditional), Portuguese, Swedish, Russian, Danish, Polish, Japanese, Czech, German, Modern Greek, Dutch
Notifications: Display notification or vibration
Apps: All events (displays in chronological order), Messaging (SMS/MMS), corporate E-mail (for SonyTM and Sony Ericsson Android phones), Gmail (for all other Android smartphones) Calendar Notifications, FacebookTM, TwitterTM, Music Player, Call handling (call, mute, reject, or answer and send pre-defined SMS), Pre-defined SMS, e.g. missed calls – I'm busy, messaging – call me, email – ok, Battery strength, Find phone, and Weather widget. Plus lots of apps on Google Play (Android market).
Sony SmartWatch Photos:
Introducing Sony SmartWatch Video from YouTube:
Advertisement