HTC Desire Eye: a stellar new smartphone with DUAL 13-megapixel cameras
Advertisement

HTC just announced its brand new suite of imaging products Desire EYE handset, a stellar new smartphone with DUAL 13-megapixel cameras. The new range consists of the HTC Desire Eye smartphone with two 13 MP cameras, HTC RE hand-held camera, HTC Eye Experience enhanced imaging software and Zoe collaborative video editing community.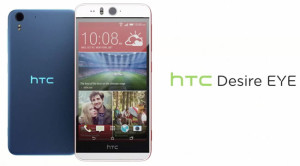 The HTC Desire Eye is a great-looking, large Android phone with a somewhat gimmicky but super-sharp front camera. The HTC Re is a somewhat overpriced experiment at creating a true impulse camera. The Desire Eye smartphone sports a 13 MP camera on the front as well as on the back side armed with BSI sensors and comes with intelligent dual-LED flash on both cameras.
The same camera is found on the front and the back of the HTC Desire Eye so you don't have to worry about which one to use to capture the photos you want. The front camera also comes with the new HTC Eye Experience — so you can capture selfies.
On benchmarks, the Desire Eye's 2.3GHz Qualcomm Snapdragon 801 processor scored a little bit behind flagship Android phones like the Samsung Galaxy S5 and Samsung Galaxy Note 3. It doesn't measure up to the Apple iPhone 6, especially on graphics benchmarks. It's definitely in the flagship realm, though.
Featuring a 5.2-inch Full HD screen, the smartphone runs on a 2.3 GHz quad-core Qualcomm Snapdragon 801 processor with 2 GB RAM and Android 4.4 KitKat operating system. It features a dual-colour, waterproof unibody design with a dedicated two-step camera key for focus.
The dual bold color high-end plastic design is quite compelling, especially as this design adds waterproof capability. It comes in coral reef (white/red) and blue lagoon (light and dark blue).
Under the hood, you'll find a Snapdragon 801 processor clocked at 2.3GHz, certainly no slouch, 2GB of RAM, 16GB of storage that can be expanded with a microSD card slot, NFC, Bluetooth 4.0 and a 2,400mAh battery. The phone will launch in the United States in coral red with a white face and submarine blue with a white face and a darker blue back panel.
Key Features of the HTC Desire Eye smartphone:
5.2-inch Full HD 1080 x 1920 pixels
Android 4.4 KitKat with HTC Sense
2.3 GHz quad-core Qualcomm Snapdragon 801 processor
2 GB RAM
16 GB internal memory expandable up to 128 GB
Rear camera- 13MP, BSI sensor, f/2.0, 28 mm lens, wide angle, with HDR, 1080p Full HD video recording, Dual LED Flash
Front camera- 13MP, BSI sensor, f/2.0, 22 mm lens, wide angle, with HDR, 1080p Full HD video recording, Dual LED Flash, Auto focus with zoom
Sound- HTC BoomSound, Dual front facing stereo speakers with built-in amplifiers, 3 microphones, Sense Voice
2G, 3G, 4G connectivity
2400 mAh battery
HTC Desire Eye smartphone SlideShow video from YouTube:
Advertisement