Nokia Lumia 1020: Smartphone can match the beautiful
Advertisement

The Nokia Lumia 1020 is a smartphone developed by Nokia. It runs Windows Phone 8, but is also Windows Phone 8.1 ready. It contains Nokia's PureView technology, a pixel oversampling (a data binning technique) that reduces an image taken at full resolution into a lower resolution picture, thus achieving higher definition and light sensitivity, and enables lossless zoom.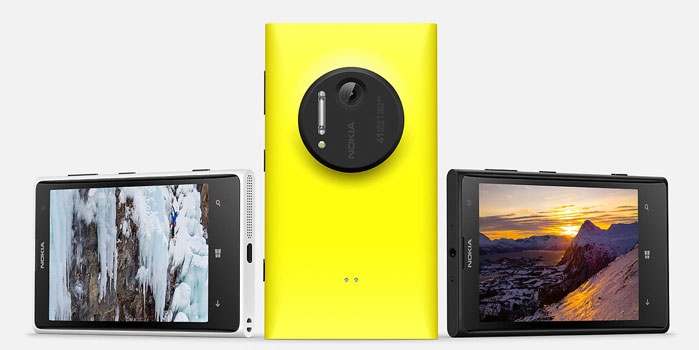 No other smartphone can match the beautiful, detailed photos and vivid HD videos of the Nokia Lumia 1020. Experience the quality of the 41-megapixel camera, PureView technology, Optical Image Stabilization, and revolutionary zoom. Take stunning pictures while exploring the world of photography with Nokia Camera. And Nokia Rich Recording makes it possible to capture stunning HD video with distortion-free sound.
The PureView camera sensor is more than just a huge collection of pixels. It's physically larger than the sensors in most smartphones and even some compact cameras. At 1/1.5in, it's twice the size as the sensors in phones such as the HTC One, Apple iPhone 5S and Nokia Lumia 925, and 1.5 times larger than the sensor in our Best Buy-winning Canon Ixus 255 HS compact camera.
The Lumia 1020 ships with Nokia's new Pro Camera application, allowing a greater degree of control over the camera settings than the standard Windows Phone in-built camera and can be set as the default imaging application when launched with the camera button.
Your moments captured like never before
The Nokia Lumia 1020 takes photos and video that no other smartphone can match with a 41 megapixel camera sensor, PureView technology, Optical Image Stabilisation and amazing high-resolution zoom.
Zoom. Reinvented
With the Nokia Camera app on the Nokia Lumia 1020 you can shoot in super high resolution, which means you can zoom in close to your shot after you've taken it. Then rotate, reframe, crop and share new images as many times as you want.
Take photos like a pro
Capturing stunning images is easier than ever with the Nokia Camera app. Take your photos to a new level by adjusting focus, shutter speed, white balance and more with easy and intuitive controls.
Video that brings back the moment
Capture sharp, detailed HD video, and zoom in up to six times without losing quality. And with Nokia Rich Recording, you can capture distortion -free, stereo sound – so you can relive the moment as if you were there again.
Vyclone
You and your friends already share images and ideas. Now you can blend them into one eye-popping video you create together. Vyclone synchs, edits and mixes uploads from multiple shooters for wildly creative mash-ups. Just point your phone, shoot, and record. Vyclone does the rest. The result? Your mixed video masterwork is ready to share across your network and the world at large.
Powered by Windows Phone 8
The Nokia Lumia 1020 with Windows Phone 8 comes with built-in Microsoft Office to help you stay productive wherever you are. With customisable Live Tiles and exclusive features like the People Hub you can stay up to speed with all the most important things in your life.
Key Features of Nokia Lumia 1020
Music apps: Nokia Music; Mix Radio
Comes with MS Office and Free Voice-guided Navigation
41 MP Primary Camera with PureView technology and Optical Image Stabilisation
1.5 GHz Qualcomm Snapdragon S4 Dual Core Processor
Powered by Windows Phone 8.1 OS and 2 GB RAM
Carl Zeiss Tessar lens
Full HD (1080p) Recording
Wireless Charging
1.2 MP Secondary Camera
The good:
The Nokia Lumia 1020 smartphone's camera captures extremely high-resolution images with fine detail, and puts creative controls at your fingertips.
Nokia Lumia 1020 Key Features video from YouTube:
Advertisement