Microsoft Windows 8: The first wave of Windows 8 PCs
Advertisement

Windows 8 is the current release of the Windows operating system, produced by Microsoft for use on personal computers, including home and business desktops, laptops, tablets, and home theater PCs. Windows 8 will be widely available—both for new and existing PCs, and on an exciting new range of tablets.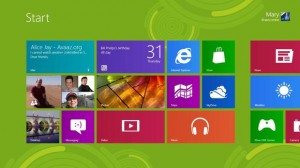 Windows 8 reimagines the way we use computers and introduces a whole new personal computing experience. Windows 8 brings faster startup times, a completely reinvented touch-friendly interface and huge scope for personalization. By putting the most important information front and center, Windows 8 gives instant access to everything from apps to social media, which means you can spend less time searching for your stuff and more time getting things done.
You need a 1GHz or faster CPU (it also needs to support PAE or PAE-NX Physical Address Extension for new security features in the Windows 8 kernel), 1GB of RAM (or 2GB for 64-bit systems), 20GB of hard drive space and a DirectX 9 graphics card with WDDM driver.
If you want to use the Windows Store to download WinRT apps, you need a screen resolution of at least 1024 x 768, and if you want to snap two WinRT apps side by side, that goes up to a minimum of 1366 x 768.
Getting started
Key to Windows 8 is the new Start screen. No longer has a static, passive display, this tile-based interface offered a fast and fluid way to interact with apps, the internet and everything in between. Live tiles show photos, the latest news and weather, and informative updates from variety of other Windows 8 apps. The Start screen even connects with Xbox services, which means you can enjoy movies, TV shows and music, not to mention a host of games.
Live updates at a glance
Vibrant and beautiful, the Start screen is the first thing you'll see. Each tile on the Start screen is connected to a person, app, website, playlist, or whatever else is important to you. Tiles light up with the latest info, so you're instantly up to date. In one glance, you'll see that photo you were just tagged in, tomorrow's weather and messages from your friends.
More than a gesture
While it works great with a mouse and trackpad, Windows 8 is optimized for touch. New finger-friendly controls make it easy to interact with and switch between apps using familiar gestures. Tap to launch an app, swipe from the left of the screen to switch between running apps, tap and drag a tile to reposition it on the Start screen and pinch to zoom the display – it's all at your fingertips.
A swipe on the left of the screen opens another key feature in Windows 8 – the Charm bar. This quick-access toolbar has tools for sharing applications and information, searching and adjusting various computer settings.
See something, share something
Your photos, websites, that funny video you just saw: Pretty much anything you're looking at; you can share with others instantly. There's no need to interrupt what you're doing, copy what you want to share, open another app, and paste it in. Just swipe in from the right and tap or click Share to immediately send it in email or post it to Facebook.
Touch and mouse
Windows is perfect for PCs with touch screens, those that have a mouse and keyboard, and those with both. Whatever kind of PC you choose, you'll discover fast and fluid ways to switch between apps, move things around, and move smoothly from one place to another.
Accessing apps
Apps are at the heart of Windows 8 and built-in access to the new Windows Store makes it easier to discover new ones. Browse through lists of popular apps, see recommendations and get personalized picks based on your own favorites – it's never been easier to find and install new software.
Windows 8 is also connected to the cloud. The Start screen's live tiles show new messages and social media updates, and email and apps are kept in sync across Windows 8 computers. Cloud storage for files, photos, video and more also comes built-in, courtesy of Microsoft SkyDrive.
It's all yours
In Windows, even the little things are all about you. Like the screen that appears when your PC is locked—it can be any picture you choose. And you'll see quick notifications on your lock screen before you sign in to your PC or open a single app.
With picture password, you can sign in by tracing a pattern on a picture of your choice instead of typing a password. Zigzag over your dog's face? Three taps on your child's nose? The choice is yours.
Happiness 2.0
Windows 8 promises to revolutionize the way we interact with computers and, to coincide with its release, ASUS is launching a number of new products that fully exploit its features and potential. These new models range from tablets to desktops and notebooks with multi-touch displays. ASUS has several models with ingenious new features too, including the ability to transform into a notebook PC to suit a particular user's needs.
Users are key to the success of everything ASUS creates and consideration of their needs permeates every stage of the product development process. In fact this approach is the very core of the ASUS Happiness 2.0 philosophy that is dedicated to delivering the best possible products through a combination of elegant design, intuitive features and technology to enhance the user experience, rather than just for the sake of it.
Discover fast and fun ways to get around
Pinch and stretch to zoom in and out. Get a global view of everything that's on your screen, and slide back and forth to find what you're looking for.
Swipe in from the left to switch between recently used apps.
Swipe in from the right to get back to Start and to other things you do often, like searching, sharing, and changing your settings.
Swipe in from the bottom to see navigation controls for any app you're in.
You can easily do all these things with a mouse, too.
Advertisement