RapidShare RapidDrive: Features of cloud sync and storage services
Advertisement

Want more cloud storage? RapidShare wants to help you out with its RapidDrive cloud sync and storage tool. The service competes directly with offerings such as Dropbox and SugarSync.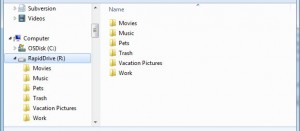 RapidShare is now offering their own cloud storage service, complete with desktop integration. While only in the Beta stage, the new service, dubbed RapidDrive seems like it could be at least on par with the Dropbox service.
RapidDrive is available only Exclusively RapidPro customers with RapidDrive you can integrate your RapidShare account seamlessly into the Microsoft Windows file system.
RapidDrive is fundamentally different from file synchronization services such as Dropbox, Microsoft SkyDrive, or Google Drive, as it is not synchronizing files automatically with the local system. This way you can manage your files and folders directly in the Windows Explorer as you normally would if you had saved them on your computer.
Take a look Click Here to learn more or download RapidDrive and Click Here to see the FAQs for more information about RapidDrive.
RapidDrive is still in beta and is currently only available for the Microsoft Windows operating system, with versions for other operating systems planned for future releases.
RapidDrive cloud storage service features:
extension of the local hard drive
only the files you are actually using are being downloaded
manage your files and folders directly in Microsoft Windows
only opened files use local storage
optional update notifications for uploads
automatic checks for software updates
option to start program automatically when computer is switched on
right-click menu to copy files
RapidDrive cloud storage service features video from YouTube:
What is your best cloud storage service? Tell us about it in the comments.
Advertisement