Lenovo Thinkpad Helix: Specs, Price and Review of Lenovo Ultrabook
Advertisement

If you are searching for a Windows 8 device to do serious work also wish for a touchscreen, then the Lenovo ThinkPad Helix seems to be a good option for you. By the way, Lenovo recently announced newest convertible hybrid business class tablet – Thinkpad Helix at the 2013 Consumer Electronics (CES) show. The ThinkPad Helix combines the performance of a business Ultrabook with the mobility of a Windows 8 tablet, which will be available in late February with a price tag of $1,499 in the US.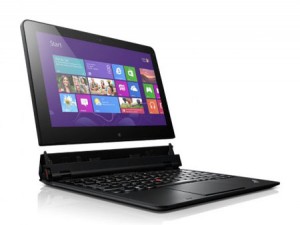 The new ultrabook convertible defines the next generation of mobile computing through its ground breaking 'rip and flip' design. This special design gives users absolute mobile freedom and versatility with four unique ways to use it. It's an ultra flexible machine with four usage modes – laptop mode, tablet mode, stand mode and tablet+ mode.
The new Lenovo Thinkpad Helix is perhaps the most serious take on the tablet-cum-laptop hybrid with no compromise in terms of design as well as specifications. In a sea of touch-inspired Windows 8 hardware, it's the first ultrabook convertible with a form factor that gets everything right. In addition to 10 hours of battery life and digitizer pen input, Helix offers the choice of four unique modes to help you work, share or browse. The first batch of Windows 8 ultrabooks get high marks for their inspired designs, but aren't quite flexible enough to truly be BYOD (Bring Your Own Device) solutions.
The ThinkPad Helix is first and foremost a high performance IPS panel boasting a full-HD resolution 11.6-inch Ultrabook, the screen on the Helix is about as good as it gets, which can be configured with up to a full Core i7 ULV processor, and all of the 'smarts' are housed in the tablet/screen portion.
The tablet is touted as the 'lightest 14-inch Ultrabook in the world,' featuring a lightweight form factor constructed from carbon fiber materials, which brings the total weight below 3 pounds and should provide around five hours of battery life. The keyboard includes additional battery capacity that doubles battery life up to ten hours (though Lenovo didn't specify the weight, it's probably close to that of the tablet).
The display is a 1080p IPS panel, and in additional to the usual 802.11n WiFi the Helix has optional LTE2 high speed wireless and even pioneers the emerging Near Field Communications (NFC) technology that lets devices to share data seamlessly by just tapping to pair them. This screen is protected by a standard layer of Gorilla Glass and there's even support for a Wacom digitizer pen, along with a stylus slot.
The dock adds USB 3.0 support is included, as is an Ethernet port, mini-DisplayPort, mini HDMI output and up to 256 GB of solid-state drive. Among the other features is a near-field communication (NFC) sensor, front-facing and rear 1080p cameras.
Key Specs of the Lenovo ThinkPad Helix:
Windows 8 or Windows 8 Pro
11.6 inch, 1920 x 1080 pixel IPS 400nit display
3rd generation Intel Core processor (up to Core i7)
10-point multitouch screen with Gorilla Glass
1.8 lbs tablet, 3.8 lbs with keyboard
Up to 8GB of RAM
Up to 256GB of solid state disk space
2 USB 3.0 ports, Ethernet, mini-Display Port and mini-HDMI
5 hours of battery life in tablet mode alone, 10 hours with the base
Lenovo ThinkPad Helix introducing video from YouTube:
Advertisement