Fujifilm Instax Square SQ20: Hybrid-Square Format Camera
Advertisement

Fujifilm expands its roster of Instax cameras with the arrival of the Fujifilm Instax Square SQ20. As a hybrid instant camera, equipped with a digital image sensor and digital image processing technology, the SQ20 offers users the ability to select their favorite images to print.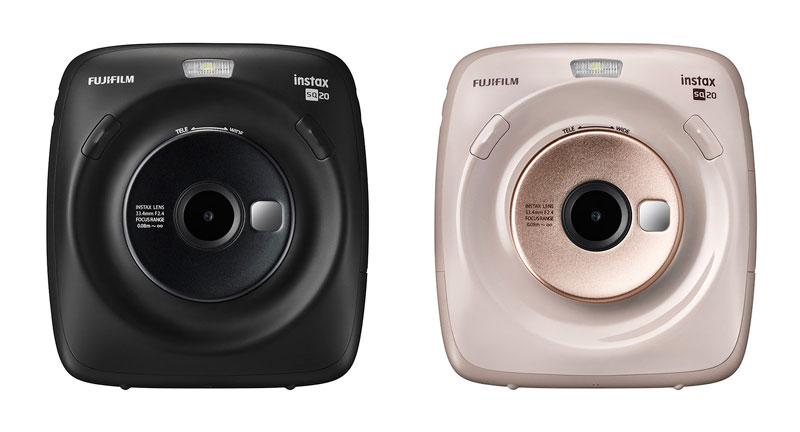 The Fujifilm Instax Square SQ20 allows you to creatively showcase the beauty of moving subjects. Whether you're capturing that exciting moment or a thrilling adventure the instax SQ20 allows you to enjoy photography and instant prints like never before.
The digital instant camera prints square photos and retains the built-in flash as well as the selfie mirror of the Instax Mini 9, but is now equipped with a bigger 1/5-inch CMOS sensor with up to 4x digital zoom for capturing thrilling adventures and exciting moments, and the ability to save photos onto an SD card.
The SQ20 is made mostly out of plastic. This isn't necessarily a bad thing, as it helps to keep the price of the actual camera relatively low. Instax cameras aren't known for having premium build quality or design; they're more of a fun camera.
It also introduces numerous unique features that unleash creativity such as Frame Grab for shooting moving subjects flawlessly, TimeShift collage that prints four photos taken at different time offsets in a single frame, and sequence filter to add a dreamy effect to ordinary images. Available in elegant colors of black and beige, it maintains instax's DNA as a stylish, easy-to-use camera with its 2.7-inch monitor and control buttons.
The SQ20 is the first camera in the instax series to include a digital zoom function. The digital zoom allows you to zoom up to 4x to adjust your view.
Capturing a moving subject has never been so easy
Shoot a video up to 15 seconds long, use the dial on the back of the camera to select the frame that captures the best moment and print your photo.
You can create a collage style image where one image is divided up at random or you can take photos for each segment. Four images can be taken with a time difference at one time.
Press the shutter button to shoot when four images appear on the monitor. The time difference between frames can be adjusted within 0.2 to 2.0 seconds.
Fujifilm Instax Square SQ20 Features:
A mirror is included next to the lens to ensure the perfect selfie every time.
Reprinting allows the last 50 photos to be printed from the print history.
The internal memory holds around 50 still images. More can be saved by using a Micro SD card.
Index prints can be created with a four-frame or nine-frame layout Comes with a built-in rechargeable battery.
Enjoy editing photos with a variety of filters.
Shoot images while looking at the monitor, and re-shoot if necessary.
Create and print new image compositions with the built in crop tool.
Advertisement