Emopulse Smile smartwatch goes up for pre-order
Advertisement

EmoPulse Smile, the best smartwatch we have seen so far, hits Indiegogo in search of crowd funding. Showcasing the capabilities of its incredible (if true) Artificial Intelligence algorithm, the EmoPulse Smile could very well be the first truly Smartwatch.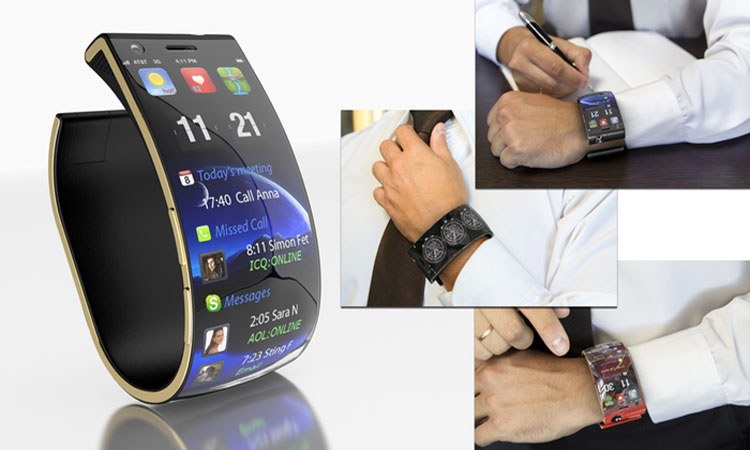 From Google Glass to the Pebble smartwatch, wearable tech is where it's at. The curved-screen EmoPulse Smile is a smartphone, smartwatch, and digital companion wrapped into one chunky wrist bracelet. It will be interesting to see if it can successfully get off the ground thanks to an Indiegogo crowdfunding campaign.
There's no Android versus iOS battle here. The Smile actually runs on Linux. That may put it at a disadvantage as far as app stores go, but it does give EmoPulse leeway to develop a custom system to try to carry out some ambitious features. The company is working on creating a device that learns what movies you like, monitors your sleep, and interacts with you with a personality meant to out-Siri Siri.
Basically a twin-display smartphone you can wrap around your wrist and wear like a bracelet, the working prototypes are reported to have made use of experimental flexible displays. The first batch were monochrome, but the latest are full-color OLED. The upper screen auto activates as the arm is raised, while the lower screen turns on when it's pointed upwards by twisting the wrist. The displays are housed within an aluminum enclosure, topped by waterproof and shock-resistant glass from Schott.
The EmoPulse Smile is powered by the OMAP 5 processor from Texas Instruments which is said to be able to cope with gaming on the smallish screens. There will be 2GB of system memory in the watch and either 128GB or 256GB of Solid State storage onboard. There will also be a nano SIM card slot which means the smartwatch should be able to act as a phone. Bluetooth and USB 3.0 support is also included for connecting to other products.
Other key specs include a nano-SIM card slot, allowing the device to act as an LTE-ready smartphone in its own right, or be paired with an existing smartphone via Bluetooth. The main display will auto switch between day- and night-time modes, but the phone part can remain active while you slumber, and the Smile will auto-direct incoming calls to voice mail or play a message advising callers to ring back later.
In addition to being Wi-Fi-capable, it's also said to be NFC-capable for instant, single-touch device connectivity, though its inclusion seems to be more geared toward making the Smile your mobile virtual credit card wallet or electronic lock opener. All keys and payment information will be encrypted, and as an added security measure, the data will be blocked when the Smile is removed from the wrist.
The Emopulse Smile smartwatch is powered by a 2,500 mAH battery which they say should ensure life across two days between charges, or up to a week in power saving mode.
To get these futuristic devices onto the wrists of consumers, Emopulse has launched an Indiegogo crowd-funding campaign, where two flavors of the Smile SmartWatch are available for pre-order. Pledge levels start of US$480 for the 128 GB models. They're available in black with blue accenting to the side, come in four sizes, and in left- or right-handed orientation. A 256 GB version can be yours for a pledge of $550. The campaign runs until July 11.
Advertisement