Apple MacBook Pro 15-inch with Retina display
Advertisement

Apple's 15-inch MacBook Pro with Retina Display returns for 2015, this time with the power of the Force. This refreshed MacBook sports the company's innovative Force Touch trackpad, which can perform a host of pressure-sensitive commands. It also packs an optional AMD Radeon R9 R9 M370X GPU, which Apple says can deliver up to 80 times the graphics performance as last year's model.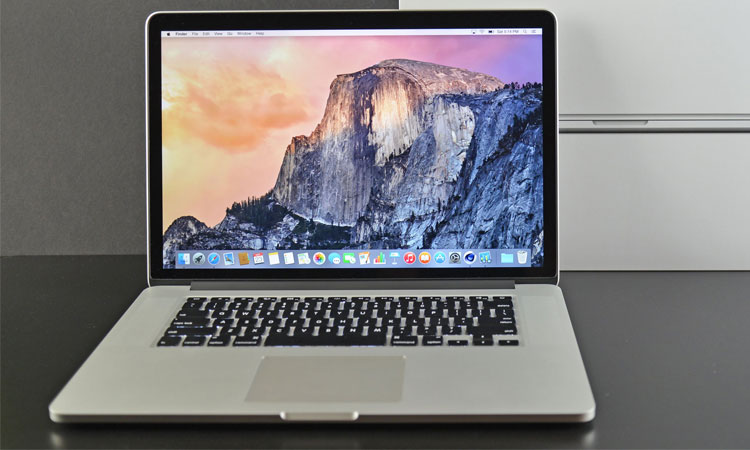 Apart from those changes, you're getting the same speedy Core i7 processor, slim and sturdy design, and gorgeous Retina Display that come standard with Apple's professionally minded laptop. Is this MacBook Pro worth the upgrade?
The MacBook Pro continues to be one of the most seamless-looking notebooks in its category, with two subtle stereo speakers flanking the laptop's signature black chiclet keyboard. The MacBook's underside sports a set of barely noticeable vents on either side, with the iconic glowing Apple logo adorning the lid.
Measuring 14.13 x 9.73 x 0.71 inches and weighing 4.49 pounds, the MacBook Pro is pleasingly skinny and fairly easy to carry. Dell's latest XPS 15 (14.6 x 10 x 0.7~0.3 inches, 4.6 pounds) is just a bit heavier and taller than the Pro, while workstations such as the MSI WS60 (15.4 x 10.5 x 0.78 inches, 4.36 pounds) and HP ZBook 15u (14.8 x 10 x 0.84 inches, 4.23 pounds) are slightly lighter but have bigger footprints than Apple's notebook.
The 15-inch MacBook Pro is slim, but with a wide desktop footprint. Especially compared with newer, lighter laptops, it feels denser than it looks at first glance, but with that comes a certain sense of indestructibility, thanks to the flex-free aluminum construction. It's not a carry-all-day-every-day package, although one could tote it around to and from work, or on the occasional day trip without much trouble.
There's a reason "Retina Display" is part of the MacBook Pro's full name. The laptop's gorgeous 15.4-inch, 2880 x 1800 screen impresses the second you pop it open, with app icons and images that burst with color, and text that practically looks handwritten.
The MacBook Pro is capable of rendering 86 percent of the sRGB color gamut, offering better color representation than the MSI (78.1) and the 83-percent mainstream average, but not as good as the XPS 15 (88 percent) or the ZBook 15u (103 percent).
Apple MacBook Pro 15-inch Features:
Retina display: 15.4-inch (diagonal) LED-backlit display with IPS technology; 2880×1800 resolution at 220 pixels per inch with support for millions of colours.
Butterfly Keyboard: Full-size backlit keyboard with 78 (US) or 79 (ISO) keys, including 12 function keys and 4 arrow keys (inverted "T" arrangement) with ambient light sensor.
Trackpad: Force Touch trackpad for precise cursor control and pressure-sensing capabilities; enables force clicks, accelerators, pressure-sensitive drawing and Multi-Touch gestures.
Dual display and video mirroring: Simultaneously supports full native resolution on the built-in display and up to 3840×2160 pixels on up to two external displays, both at millions of colours.
The good: Brilliant higher-than-1080p-resolution Retina screen. Two Thunderbolt 2 ports. 16GB of system memory is standard. Comes with iLife and iWork software suites. More than 11 hours of battery life in testing.
The bad: Competitors have 4K screens. Glossy display, with no matte option. 256GB storage is light. Ethernet requires adapter. No USB-C port.
The bottom line: The latest Apple MacBook Pro 15-inch with Retina display gets a Force Touch trackpad and better battery capacity than its predecessor, but it faces stiff competition.
Advertisement