µTorrent Beta app for Android Released
Advertisement

BitTorrent Inc has officially launched its first official µTorrent (Beta) app for Android was released on Google Play. The first generation of this powerful new app is designed to be easy-to-use, super-fast, and make your Android device so much more fun.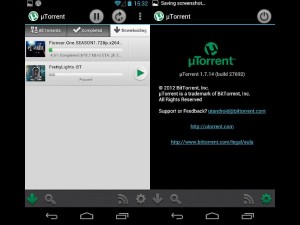 It is allow to search torrents and download them directly on the smartphone, maintain RSS subscriptions, play content and more.
µTorrent Beta on Android is lightweight, taking only 1.6 MB of your storage space. The client however, can be used to download files of any size (and at any speed) via torrents to your Android device.
µTorrent (uTorrent) for Android (Beta) is currently free, To get the best performance and avoid running up your data charges, we recommend taking advantage of WiFi whenever possible.
Features of uTorrent Beta for Android:
Fast, easy on-the-go downloading of torrents
Find for torrents on the Web and download from a URL
RSS subscriptions
No speed or size caps on downloads (mobile data limits still apply)
Instant access to featured content
Set download / upload speed limit
Easy-to-use and better performance
You can download µTorrent (Beta) app from the official Google Play store (Android 2.1+ is required).
Advertisement