Microsoft Office 2013: 10 Best Features of Office suite
Advertisement

Microsoft Corp. unveiled the customer preview of the new Microsoft Office suite. Office 2013 is touch screen ready and cloud friendly, and it adds bold new twists to the Microsoft Office franchise.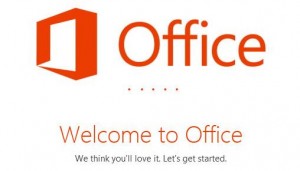 Microsoft Office 2013 requires at least 1Ghz processor, 1GB RAM, 3GB free space on the hard disk, DirectX 10 compatible graphics card for hardware acceleration, 1024 x 576 pixels display resolution, and Windows 7 or Windows 8 operating system.
For features like Sky drive integration, the software suite also need a robust internet connection that features an intuitive design that works with touch, stylus, mouse or keyboard across new Windows devices, including tablets.
Here is our list of 10 Best features that the new Office 2013 has to offer.
1. The New User Interface
The Office 2013 user interface isn't markedly different from the one in Office 2010: The ribbon remains front and center, though the text and the icons inside it are a bit larger and are spaced farther apart.
2. Touch And Stylus
Office 2013 ventures beyond the mouse and keyboard to embrace touch and pen input. It responds to touch as naturally as it does to keyboard and mouse. One can swipe their finger across the screen or pinch and zoom to read documents and presentations.
3. SkyDrive
Microsoft's SkyDrive cloud service has languished for years, but that will soon change with the arrival of Office 2013 and Windows 8. Office 2013 saves documents to SkyDrive by default, which means content is always available across all devices tablet, PC and phone and you can access Office 2013 and your documents in a cyber cafe even if the program is not installed locally on the computer.
4. Metro Look
Microsoft loves Metro user interface, which was first introduced in Windows Phone 7 around two years ago. Office 2013 conforms to Microsoft's "Metro" look that's pervasive across the software developer's latest mobile apps.
5. PDF editing
Office 2010 had added the support to save Word documents as PDF files. Office 2013 now adds the support to open PDF files and edit them you can simply open a PDF as you would any other document. Word 2013 maintains the formatting of the file, which is fully editable.
6. Excel 2013
Excel 2013 feels fresh yet comfortingly familiar. Microsoft has added several new whiz-bang data-analysis tools, including one called Flash Fill. Excel 2013 does offer some useful upgrades though, including new templates for budgets, calendars, forms, and reports.
7. Reading, markup
The Read mode has been designed keeping in mind tablets and smart phones. Once you click the Read mode, the document is converted into a typical book page. Zoom in and out of content, stream videos within documents, view revision marks and use touch to turn pages.
8. Sharing and embedding web elements
Office 2013 uses Sky Drive to enable better sharing of documents. You can invite people to work on to the document. YouTube videos can be now embedded into the documents directly and users don't have to save these clips to the local computer.
9. Skype comes to Office
Do you remember Microsoft buying Skype last year? The new Office comes with Skype, which gives 60 minutes of Skype world minutes every month. Integrate Skype contacts into Lync and call or instant message anyone on Skype.
10. Powerful PowerPoint
Microsoft PowerPoint 2013 is a fine-tuned version of a seasoned productivity app. As before, the program steps you through the presentation-building process. The highlight of PowerPoint is Presenter View that allows a user to review the next slide in advance before showing it to audience on the large screen.
Microsoft Office 2013 Features video from YouTube:
Advertisement