Toshiba Portege Z930 ultrabook: Toshiba's Small, light, mighty and Ultra Light Laptop
Advertisement

The Toshiba Portage z930 ultrabook is the ideal working tool for modern professionals and executives on the move. Boasting a breakthrough in the ultra thin and light design, The laptop managed to be the thinnest lightest model for a 13 inch notebook without scarificing the perdormance of a notebook. Giving you the ultimate balance of mobility, performance and security, the Portege z930 ultrabook is definitely ahead of its competitors.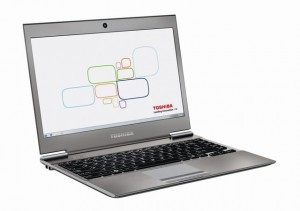 In the Z930's case, light in weight does not equate to feeling poorly made, as the material used (magnesium alloy) is very durable. Despite its thin profile of 17 mm, we could not coax any creaking or flex out of the chassis – which is always a reassuring sign.
Introducing Toshiba Portage z930 Ultra thin, Ultra light Laptop
Powerful Performance for Work and Play: Powered by the 3rd generation Intel Core processors and the ultra-fast solid state drives, the laptop can resume from sleep in as fast as 2 seconds to provide the outstanding performance for work and entertainment.
Compelling performance: Beyond this, the ultrabook boasts some impressive specifications. At its heart you will find an Intel Core i7 (3667U) CPU, clocked at 2 GHz, 4 GB of memory and 238 GB of usable hard drive space on the solid state drive.
The integrated Intel HD Graphics 4000 is certainly capable enough in its own right, at least for most graphics task and some light gaming. The Ivy Bridge i7 processor breezed through general computing tasks; browsing the web, running applications and playing videos were snappy.
Reflect on this: The Z930 also hosts a matte screen, which dramatically reduces reflections, yet still offered up superb color saturation and contrast. It further managed to avoid the overall dullness that plagues some other matte displays while being more restive on one's eyes than glossy screens. While viewing angles don't fare quite so favourably, its maximum resolution of 1366 x 768 (118 ppi), still delivered sharp text and crisp images.
The Z930 sports rather nice, chiclet keyboard, while the indented trackpad was responsive from edge to edge. It is supported by two firm mouse buttons, which we found a little too stiff and shallow for our liking.
Small touches, big differences: The company has opted to place its fan on the back and thus keep warm air away from the left and right sides, while keeping the palm rests cool as well. We were happy to see that the two USB 2.0 ports, one USB 3.0, HDMI, SD card reader and Ethernet ports were evenly spread across the back and sides of the machine. Additionally, battery life proved to be a few minutes shy of seven and a half hours.
No Compromise Simply Perfection: It started with a simple idea to create the perfect Ultrabook, unbelievably thin & light with no compromise in durability, features and performance.
To the point: The Portege Z930 is a very capable and powerful ultrabook, and we can easily see business executives relying on this one. It may be lightweight, but it's hardly cheap.
Advertisement