Sony HMZ-T3 Head Mounted Display with Virtual 7.1 Surround Sound
Advertisement

Now playing for your eyes and ears only—the wearable HDTV from Sony. Connect your Blu-ray Disc player, gaming console or HDMI-capable PC all wirelessly and even hook up compatible mobile devices and smartphones to enjoy your favorite movies and games with a virtual 750″ screen and virtual 7.1 surround sound—even in 3D.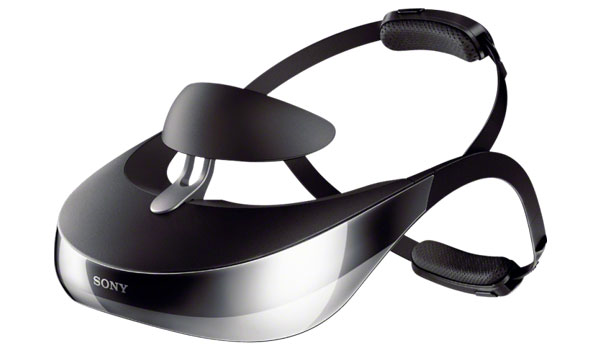 The HMZ-T3 also arrives with high-definition audio, virtualized 7.1 channel sound and has shed 10 grams since the T2. That's despite improved padding and some more forgiving adjustment controls that made wearing the device noticeably less frustrating.
It's completely wireless, though you'd have to be very brave to take this thing on the bus. Sony promises "hours" of battery life, meanwhile. The 1,280×720-pixel OLED displays mimic a giant screen, and are 3D-capable.
The gaming experience was pretty similar to what we saw on last year's model, although there's some new viewing menu options to increase the visibility of darker areas in-game without washing out the brighter parts.
You can connect the HMZ-T3W to your PC, game console, and mobile phone or tablet via HDMI plugged into a wireless processor unit that converts the input to an image that matches your two screens.
Your personal cinema
Using the HMZ-T3W is like having a multiplex movie theatre with you wherever you are, complete with full 7.1ch surround sound and a virtual 750″ screen viewed from a 20-meter distance. Total Recall now available on Blu-ray.
Your sound, your choice
Whether you want headphones for a totally immersive experience, or in-ear models for portability, the HMZ-T3W accommodates your preference. Plus 7.1ch surround sound and multi audio codec support mean you'll always enjoy top-of-the-line home cinema audio quality.
Immerse Yourself
Slip on the wearable Head Mount Display to create your own personal movie theater or private game room and enjoy a 2D or 3D experience that's unlike anything you've ever seen.
Connect with Mobile Devices
Carry your favorite movies and games with you and watch them in your own private 150″ simulated theater when you hook up your wearable HDTV directly to a tablet, PC, mobile device or smartphone.
Cut the Cables
The cordless convenience of WirelessHD combined with a versatile mobile battery makes the wearable HDTV the perfect device for maximum theater-like entertainment.
A 750-inch Screen in Your Face
Get the big screen experience without devoting an entire wall to a TV. The wearable Head Mount Display simulates a 750-inch screen 65 feet away so you can enjoy 2D or 3D in stunning size and clarity.
Superb Sound
Completely immerse yourself in whatever you're watching with the Wearable HDTV's virtual 7.1 surround sound. Use the included high-quality earbuds or your favorite set of headphones to recreate a theater-like sound experience just about anywhere.
Keep Your Head in the Game
Speedy responses and no annoying on-screen image lag make playing your favorite game an epic adventure. Touch a button to instantly boost contrast and enhance shape details for a gaming experience you have to play to believe.
Picture Perfect
ehold an exceptional 2D or 3D viewing experience via dual HD OLED displays that provide an independent, yet coordinated image for each eye. OLED displays are known for outstanding brightness, contrast, color and clarity.
Introducing Sony HMZ-T3 Wearable HDTV video from YouTube:
Advertisement