MiLi Power Crystal: Specs, Features and Review of reliable external battery
Advertisement

The MiLi Power Crystal is a highly compatible 2000mAh universal battery pack. It will provide up to 12 hours of talk, 60 hours music, and 12 hours of play. It offered in several fun and bright colors and with a carrying pouch and built in key chain, the Crystal will go anywhere with you.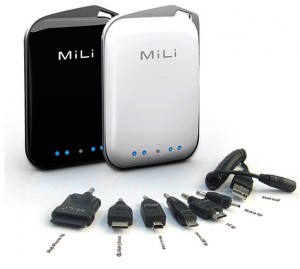 The MiLi Power Crystal's plastic shell is a real fingerprint magnet, but the black sample I received for review manages to hide most of my grubby prints. There is a lanyard loop on the top-right, a button to light the four LEDs that indicate current battery life, and two ports.
The External Battery comes with a retractable USB cable and six connector tips for various digital devices: LG tip, Samsung G Series tip, Micro USB tip, Nokia 2.5mm tip, Mini USB tip, iPhone/iPod tip.
Compatibility and style are what define the Power Crystal. This 2000mAh ever-reliable external battery- offered in several colors- comes with 6 tips for different devices, a carrying pouch, and a built in key chain, all making it perfect for power on the go.
Features of MiLi Power Crystal:
6 adapter tips for Apple, mini USB, Micro-USB, LG, Samsung, Nokia
External battery for iPhone, iPod, mobile phone and other digital products
Small, convenient, easy to use, high capacity
Use USB cable to charge Power Crstal
Carrying pouch
Built in key chain
Pocket sized
4 LED power indicators
Several color choices
Specifications of MiLi Power Crystal:
Dimension: 88(L)x54(D)x16(T)mm
Capacity: 2000mAh
Input: DC5V/500mAh
Output: DC5V/1A
Self-charging time: 4.5 hours
Self-power consumption time: Up to 5000 hours
Gross Weight: 10Kg / 22.05lb
Advertisement