Apple iMac With Retina 5K Display: The Amazing Desktop Computer To Use
Advertisement

Apple introduced its latest take on the iMac, which boasts a 27-inch 5K retina display. The all-in-one is one of the most beautiful objects in technology, and it's even easier on the eyes with the addition of a 5K display.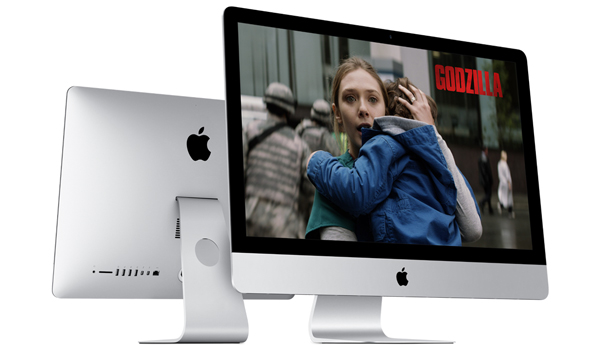 The 27-inch, 5120×2880 screen has a PPI of 218, or roughly equivalent to that of the MacBook Pro with Retina display, but the specs on paper, while impressive in their own right, can't convey the experience of actually using the thing.
The Retina 5K display isn't just good, it's overwhelming. The 27-inch screen with 5,120-by-2,880 resolution blows past 4K (3,840-by-2,160), packing an unheard-of 14.7 million pixels.
The new iMac is also a powerful gaming machine, if that's your thing and the gameplay experience was smooth and fast, even in later stages of the game when the map gets a bit crowded with visual elements.
The iMac come with powered by fourth-generation Intel Core processors, iMac has speed built in. Every model in the lineup comes as standard with an Intel Core i5 processor, topping out at 3.4GHz.
iMac graphics are powerful across the board. Whether you choose fast integrated Intel HD Graphics 5000, even faster Intel Iris Pro Graphics or incredibly fast NVIDIA discrete graphics, you'll experience 3D games and HD videos with more speed and responsiveness than ever before.
Fusion Drive is our breakthrough storage option that combines a high-capacity hard drive with high-performance flash storage. Fusion Drive intelligently manages your data so that frequently used apps, documents, photos and other files stay on the faster flash storage, while infrequently used items move to the hard drive. You'll enjoy shorter boot times, and as the system learns how you work, you'll experience faster application launches and quicker file access.
Brilliance onscreen. And behind it.
When you're looking at the gorgeous widescreen iMac display, there's nothing to distract you. That's because it's designed to reduce reflection. And the LCD is right up against the display glass. So you see your photos, games, films and everything else in vivid, lifelike detail.
High-performance technologies.
With fourth-generation Intel Core processors, high-speed graphics, Thunderbolt I/O and an advanced Fusion Drive option, iMac isn't just visually stunning. It's also incredibly powerful.
Great built-in apps for work and play.
Every new Mac comes with iPhoto, iMovie, GarageBand, Pages, Numbers and Keynote. So you can be creative with your photos, videos, music, documents, spreadsheets and presentations right from the start. These apps have been updated to match the beautiful design of OS X Yosemite. You also get great apps for email, surfing the web, sending texts and making FaceTime calls — there's even an app for finding new apps.
The world's most advanced desktop operating system.
Easy to use, beautiful to look at and engineered to take full advantage of your Mac hardware, OS X Yosemite is our most advanced desktop operating system. It comes with an amazing collection of apps for the things you do every day. And it's designed to enable your Mac and iOS devices to work together in amazing ways.
Apple iMac First Look video from YouTube:
Advertisement