Nook Simple Touch with GlowLight: Specs, Feature and Review of An e-reader for night readers
Advertisement

Barnes & Noble Inc., the leading retailer of content, digital media and educational products, introduced the world's first E Ink device NOOK Simple Touch with GlowLight.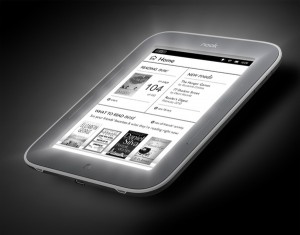 If you have got an e-ink reader like Amazon's Kindle Touch, the answer is yes to the first two questions and no to the third. If you are using a tablet such as the iPad, your answers will usually be reversed.
The Nook Simple Touch with GlowLight is exactly like the original Nook Simple Touch. We are talking the same stubby body, TI processor, 2GB of storage, microSD slot and six-inch Pearl E Ink display with infrared touch.
Powered by a front-lit screen dubbed GlowLight, the new Nook emits a pleasant glow that's sort of different from traditional back lighting. It's easier on the eyes but the light cuts the battery life in half — which honestly is not that big of a deal.
The GlowLight technology does affect the battery life much better. The Nook Simple Touch with GlowLight should give you an estimated month of reading time, according to B&N's numbers, compared to two months with the light off.
Key Features of Nook Simple Touch GlowLight:
Ultra-Light and Super Thin
World's Best Reading Screen
Easiest-to-Use 6″ Touchscreen
Fastest Reader
Breakthrough E Ink display – 25% faster than any other eReader
Best–Text, ultra-crisp, reads just like paper – even in bright sun
Longest battery life – read for up to 2 months based on 1 hour of daily reading
Over 2.5 million books, get them in seconds w/ built-in Wi-Fi
No annoying ads
Always free NOOK support in-store
Borrow books from your public library
Ultra-Light, Ultra-Portable
World's Largest Bookstore
Borrow Public Library Books
Personalized Reading Experience
NOOK Keeps Your Place
Share with NOOK Friends
Specifications of Nook Simple Touch GlowLight:
Height: 6.5 inches
Width: 5.0 inches
Depth: 0.47 inches
Weight: 7.48 ounces
Display: 6-inch touchscreen
Resolution: 800×600
Built-in Wi-Fi Wireless: Wireless connectivity via Wi-Fi (802.11b/g/n)
Memory:

2GB Holds up to 1,000 books
Expandable microSD card up to 32GB

Connectors:

MicroUSB connector charges your battery and connects to your computer
Expandable microSD slot

Supported File Types: ePub5, PDF
Graphic: JPG, GIF, PNG, BMP
Battery Life:

Up to 2 months with wireless off based on 1 hour of daily reading.
Installed rechargeable battery
Charge via USB to a computer

In the Box:

NOOK Simple Touch
microUSB Cable
Quick Start Guide
Rechargeable battery (installed)
Look-up words in the built-in Merriam-Webster's Collegiate Dictionary, Eleventh Edition
The bottom line: The market for tablets and e-readers is in a great deal of flux. It feels as if new models are arriving almost on a weekly basis, with prices changing at almost the same rate.
Advertisement