Acer C110 Pico: Specs and Review of Travel-Size Projector
Advertisement

The C110 Pico Projector, Acer has created the perfect match for you notebook. Not only the new projector is extremely light and ultra compact, but doesn't even need a power adapter. This projector brings-anywhere entertainment buddy offers exceptional performance, regardless of content and in practically any type of environment.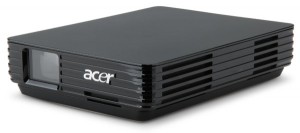 The Acer C110 Pico Projector is designed to fit in perfectly with your mobile lifestyle. The extreme portability is completed by a sophisticated black case that portrays refined elegance.
Quality wise, your average DLP (Digital Light Processing) projector will humiliate the best LCD and plasma panels at a fraction of the cost. Even if you aren't keen on investing another 40 to 80 grand on an HD \ Full-HD projector, you may want to consider pocket-friendly Pico projectors.
Its ultra lightweight and compact package (at 175g) promises extreme mobility. The power of the Acer C110 Pico projector lies in its 2000:1 high-contrast ratio and 50 ANSI Lumens brightness that provides excellent image quality and comes in handy for your digital entertainment needs.
An LED lamp, with a wide color gamut, offers better color saturation that is perceived as brighter by the human eye. It only needs a single USB cable to connect to you laptop and be powered while allowing you to enjoy your favorite movies, your holiday pictures or show your presentations.
The downright diminutive C110 (seen above) is a DLP-powered beamer that gets all the juice it needs via USB, measures just 110- x 85- 25mm and offers up a WVGA (854 x 480) native resolution. The LED bulb is said to last up to 20,000 hours, and it will go from dead to dazzling in five seconds flat.
On top of working out of a single USB cable – which means no power adapter, no tangle of cables and no issues with plugs – it weighs a mere handful of grams (175 g) and measures just 110x85x25 mm, thus allowing to make brilliant presentations without adding any burden.
Specifications of Acer C110 Pico Projector:
Projection System: DLP
Display Panel: 0.3″ DMD
Resolution: Native WVGA (854 x 480), Maximum WXGA (1,280 x 800)
Computer Compatibility: IBM PC and Compatibles, Apple iMac/MacBook, and VESA Standards WXGA (1,280×800, 1,280×768, 1,280×720), XGA (1,024×768), SVGA (800×600), VGA (640×480)
Aspect Ratio: 16:9 (Native), 4:3
Contrast Ratio: 2000:1
Displayable Colors: 16.7 Million Colors
Brightness: 50 ANSI Lumens
Lamp Type: RGB LED
Lamp Life: LED life 20,000 Hours
Weight: 166 g (5.86 oz)
Dimensions: 110 x 85 x 25 mm (4.3″ x 3.3″ x 0.98″)
Input Interface: USB (Type A) x 1
Advertisement