Apple MacBook: All you need to know about the new 12-inch MacBook
Advertisement

With the new MacBook, a full-size experience into the lightest and most compact Mac notebook ever. That meant reimagining every element to make it not only lighter and thinner but also better. The result is more than just a new notebook. It's the future of the notebook.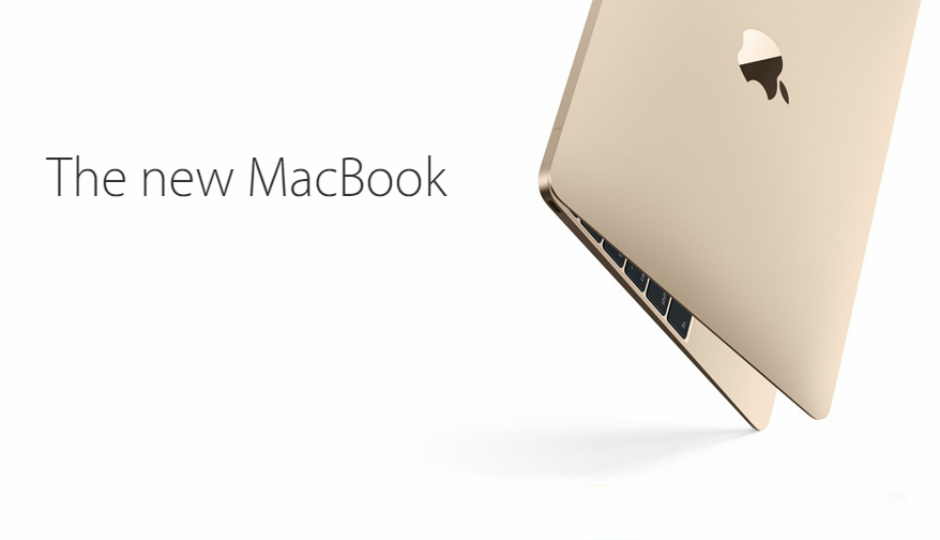 The new MacBook has a lot of segment firsts in terms of specs, features and design elements, so let's take a look at what the MacBook is all about. The new Apple MacBook starts at 1299$, yes that is a lot!
Let's start with the basics. The new MacBook will be powered by an Intel Core M chip (14nm Broadwell platform). The Intel 1.1 GHz Core M processor used in the MacBook is made for hybrid devices and high performance tablets with fanless design, employing passive cooling techniques.
The graphics on the MacBook is handled by Intel HD Graphics 5300, a very basic GPU that sits at the bottom of the latest Intel Core platform. The laptop comes with 8GB RAM by default and gives a choice between 256GB or 512GB of PCIe based flash storage.
A full-size keyboard. In a fraction of the space.
Full-size keyboard is essential for a great notebook experience. But to fit one into the elegantly thin new MacBook, we had to completely rethink how a keyboard is engineered and constructed. To create the new keyboard, we redesigned each key and its underlying mechanism — not only making the whole keyboard much thinner, but also allowing for more comfortable, precise and responsive typing that just feels right.
Retina re-envisioned.
The moment you open the new MacBook, its gorgeous 12-inch Retina display with edge-to-edge glass brings everything into focus. Every photo leaps off the screen in rich, vibrant detail. Over three million pixels render each letter with crystal clarity. And it all comes to light on the thinnest, most energy-efficient Retina display ever on a Mac, meticulously honed to deliver a bold visual experience within an impossibly minimal design.
The trackpad, pushed even further with Force Touch.
With the new MacBook comes a whole new way to experience a trackpad. The Force Touch trackpad is engineered to deliver a responsive, uniform click no matter where you press the surface. And underneath, force sensors detect how much pressure you're applying and give you new ways to interact with your Mac.
You can now use a force click to enable new capabilities, like quickly looking up the definition of a word or previewing a file just by clicking and continuing to press on the trackpad. You'll also experience haptic feedback — a tactile vibration from the trackpad that adds the sense of touch to what you see on the screen. These advanced capabilities work in addition to all the intuitive Multi-Touch gestures Mac users love. You'll be more in touch with your Mac than ever before. Without lifting a finger.
The new 12-inch MacBook Design.
The new MacBook looks and like an extended version of the MacBook Air. Just that it's a lot thinner, smaller and lighter while offering the same unibody design. The laptop boasts a mere 13.1 mm in width and weighs 0.92Kg. This easy to carry laptop will be available in three colours: Silver, Gold and Space Grey. Just to put things in perspective, the MacBook Air 13 weighs 1.35 kilograms and is 17mm thick.
Fully equipped for a wireless world.
The new MacBook is designed to fit effortlessly into our increasingly wireless world. Just about anything you do with a notebook can now be done over the air, thanks to Apple software that takes full advantage of the latest Wi-Fi and Bluetooth wireless technology. So no matter where you are, you can connect to the web, transfer files, organise your photos, listen to music and more — without being tied down.
Advertisement