Google Free Quickoffice iPad app for business customers
Advertisement

Earlier this year, Google acquired QuickOffice in order to standardize its online Google Docs suite. After the acquisition, the company named it as Google Drive. Google says it has been working to make it easier for people to work with their legacy Microsoft Office files by converting them to Google docuements, and by editing them in Quickoffice itself.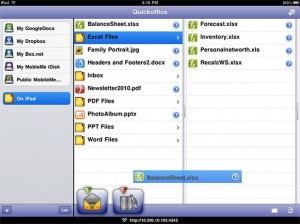 Google announced that it has launched a free version of the Quickoffice for iPad app for all of its Apps for Business customers. Initially, only Google Apps for Business users who are allowed to use Drive apps by their domain administrator will be able to use this version of the Quickoffice app.
The Quickoffice iPad app automatically syncs with Google Drive and supports two-factor authentication, according to Google. With the app, users can open and edit any Microsoft Word, Excel or PowerPoint file stored in Google Drive right from their iPads.
The iPad app makes it easy to create, view, and edit all versions ('97 – '10) of Microsoft Word, Excel®, and PowerPoint® files on your mobile device. This version is designed for Google Apps users and is integrated with Google Drive for instant access to all your Office files stored in Google Drive. Just open on your iPad, edit, and save back to Drive to be able to access them from anywhere.
How to Using Quickoffice to edit Office files on your iPad:
Converting old files to Google Docs, Sheets and Slides is the easiest way to share and work together, but perhaps not everyone you work with has gone Google yet. To complement what you can do with Google documents, we're also making it easier for you to make quick edits to Microsoft Word, Excel and Powerpoint files without conversion.
With Quickoffice for your iPad you can:
Create, View & Edit '97 – '10 Word documents (.doc & .docx)
Create, View & Edit '97 – '10 Excel® spreadsheets (.xls & .xlsx)
Create, View & Edit '97 – '10 PowerPoint® presentations (.ppt & .pptx)
Track Changes, Add Comments, & Spell Check in documents (.doc & .docx)
With Quickoffice it's easy to:
Edit: Use the Multi-Edit Toolbox to change text, paragraphs, backgrounds, and cell arrangements across entire documents or spreadsheets.
Navigate: Both horizontally & vertically through your folders & files, and review file information within a single-screen viewer.
Organize: Manage your files with simple touch, tap, and drag controls in the File Manager. Scroll in any direction and drag and drop to move, copy, and delete files in Drive or on your iPad.
Scroll: View thumbnails and jump to any page in any document with a single-touch.
Starting today, the Quickoffice iPad app is available for free to all Apps for Business customers, and iPhone and Android versions are on the way. With the app, you can open and edit any Office files you've stored in Google Drive right from your iPad. It's worth noting that the regular Quickoffice Pro HD app continues to be available in the App Store, too, and still costs $7.99.
Advertisement